Fans for the hen house
For example: +98(50)123-45-67
Technical characteristics
Brand

Gigola & Riccardi

Country of manufacture

Italy
Description
Wall axial GIGOLA & RICCARDI ES-140 fans for poultry farming, with a productivity up to 41 306 m cubic, Italy
This type of fans is developed by the Italian firm GIGOLA & RICCARDI especially for poultry-farming farms. They are equipped with zhalyuziyny and protective lattices. Thanks to a protective lattice, on the blade of the fan birds and other objects capable to damage the fan will not be able to get.
Productivity of fans depends on air depression indoors. The depression is less, the efficiency is higher.
Big plus is also use of new types of magnets for engines which provide high efficiency of fans at low specific consumption of electric energy.
The design and material of a belt of the drive of the fan provides reliable and its durable service.
Characteristics:
- engine capacity: 1,1 KW;
- food: 230/400B, 50/60Hz;
- productivity: to 41 306 m cubic at 0 Pa;
- existence of a protective lattice;
- sizes: 1380/1380/405 mm;
- weight: 70 kg.
- material: the case - galvanized steel, the driving wheel - stainless steel.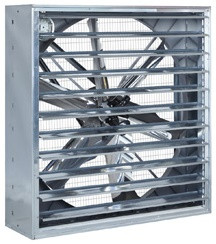 yavlya¾tsya I chastinoit the Tunelny (tortsevy) Prolisok fan tunelno ї ventilyats і ї in bud_vl і, utrima¾tsya ptitsya. The Dany fan dozvolya є at maly vitrata elektroyenerg і ї viduvat velik_ about * є mi (to 41023 m3) pov_trya, and takozh zb_lshuvat plinn_st pov_trya in bud_vl і, shcho it is especially urgent in more warmly per_od to fate. Fan ma є zakhisn_ zhalyuz_ z centrifuge system, yak v_dkriva¾tsya yak of a t_lka of an initiative є pratsyuvat fan. In more cold per_od to hour, prick a tuneln ventilyats_ya not vikoristovu¾tsya, on the fan it is possible vstanovit of winter quarters a zakhist, shcho dozvolya є teplovtrata znizit bud_vl_ і ekonomit on opalenn_. At utrimann_ batk_vsky herd, for znizhennya popadannya a day sv_tl in bud_vlyu on the fan vstanovlyu¾tsya a svetozashchita. For inflow great about * є m_v pov_trya at robot_ tunelno ї ventilyats і ї vikoristovuyutsya zhalyuz_ z the servo-driver, upravl_nnya v_dkrittyam yaky on bud_vl_ zd_ysnyu є a komp*yuter of a m_krokl_mat.
Buy Proponu¾mo, zamovit the tunelny fan, pritochn_ zhalyuz_ on nizk_y ts_n_ in software Prol_sok. At us vi you znaydt an optimalna v_dpov_dn_st ts_n, yakost і, nad_ynost_ and takozh ¾vropeyskiya serv_s.
Contact the seller
Fans for the hen house