Lanyards DIN 1480 ring-ring
Reconfirm the price with seller
Invoice payment,
Visa/Mastercard,
Cash on delivery,
L/C - Letter of Credit,
D/P - Documents against Payment,
D/A - Documents against acceptance
Customer pickup,
Courier,
Transport company
Less than 1 year old on Allbiz
Technical characteristics
Country of manufacture

Russia
Description
The product meets the requirements of DIN 1480
Material: die - cut carbon steel
Coating: zinc
Appointment
Lanyard is a lifting device with which the degree of tension of ropes, cables and chains is adjusted. In addition, the lanyard is widely used as a length compensator, support and safety rigging device.
Lanyards can only be used for linear pulling force, i. e. along the axis, special attention should be paid to avoid overloads. Not intended for lifting operations.
Design
Lanyard is made by stamping from alloy steel followed by zinc coating, consists of two screws screwed into the coupling with the opposite thread. The tension of the cables is adjusted by rotating the central housing (coupling), which moves the screws towards the center.
Depending on the design of the ends of the screws and their combinations, lanyards can be divided into the following modifications: "hook - hook", "ring - ring", "hook - ring". All structural elements are interchangeable, provided that the standard sizes are observed.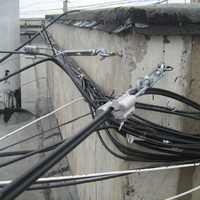 Contact the seller
Lanyards DIN 1480 ring-ring