Less than 1 year old on Allbiz
Technical characteristics
Country of manufacture

Russia
Description
Install only on a firm, level surface.
The handle is not included in the package.
Appointment
Jacks belong to the group of the simplest mechanisms used to lift various loads to a level usually not exceeding 1 meter. Screw jacks are simple in design and reliable in operation, the jack has compact dimensions, low dead weight and fits easily in the trunk of a car.
The design of the screw jack includes a cast iron body and a threaded screw and a gear bevel gear located inside it. Depending on the direction of rotation of the toothed gear, a small handle is used to quickly feed the jack support surface for the load being lifted or lowering it. Directly the power lifting (lowering) of the load is carried out using a large handle.
The jack must be placed on a solid supporting surface. If the ratchet starts to work during lifting, then it is necessary to switch it to the lifting position. To do this, lift the switch latch so that the guides are out of the slots, rotate the latch 180 degrees and reinstall the latch. After that, you can continue climbing. Lowering is done in reverse order. The ratchet mechanism only works under load.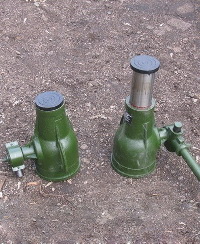 Contact the seller
Screw jacks