Less than 1 year old on Allbiz
Technical characteristics
Country of manufacture

Russia
Description
Hoists of climatic modification U1 in accordance with GOST 15150 - 69. Ambient temperature from - 40 o C to + 40 o C.
Mode of operation 1M according to GOST 25835 - 83 (M3 according to ISO 4301 / 1 - 86).
The hoist is not intended for lifting and moving people and work in explosive and fire hazardous environments.
Appointment
Stationary manual gear hoist TRSHK is a classic type hoist. Reliable and convenient tool for constant use. Designed for lifting, holding in a raised position and lowering the load during construction and installation works, repair and handling operations in various industries.
The TRSHSK hoists have a low headroom (distance between the top and bottom hooks), which ensures optimal use of the available space. The hoists require minimal maintenance, are easy to disassemble and require no special tools.
The gear hoist consists of two power suspensions (upper and lower), a gearbox with a load brake, a body, a load and pulling sprocket, a load and pull chain and a casing. The gearbox is a two - stage, two - flow cylindrical coaxial gearbox with external gears.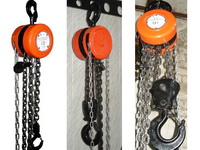 Contact the seller
TALI series TRSHSK