Less than 1 year old on Allbiz
Technical characteristics
Country of manufacture

Russia
Description
Hoists of climatic modification U1 in accordance with GOST 15150 - 69. Ambient temperature from - 40 o C to + 40 o C.
Mode of operation 1M according to GOST 25835 - 83 (M3 according to ISO 4301 / 1 - 86).
The hoist is not intended for lifting and moving people and work in explosive and fire hazardous environments.
Appointment
The manual gear lever hoist is designed for lifting, holding and lowering loads during construction and installation, repair and loading and unloading operations. Lever hoist allows you to raise the load with human muscle power to the level of the operator (which is located near the hoist attachment point), lifting / lowering the load is done by means of a lever transmission.
The TRShSR hoist consists of power cheeks, a gearbox with a load brake, upper and lower suspension brackets, a load chain and a lever. The gearbox is a two - stage, two - flow cylindrical coaxial gearbox with external gears. Brake - automatic disc, load - resistant.
To bring the hoist into working condition, it is necessary to switch the flag on the handle from the neutral position (H) to the "Raise" (P) or "Lower" (O) position. The lifting or lowering of the load is done by swinging the arm.
Hand lever hoists TRSHSR have a low headroom, which ensures optimal use of the available space. The hoist has a long service life, which is ensured by a simple and durable design, adherence to technological processes in the manufacture of mechanism elements.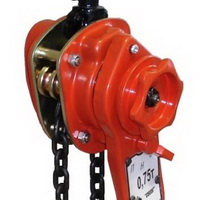 Contact the seller
Tali series TRSHSR